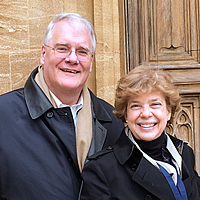 Halsey M. North, Chairman
Alice H. North, President
Halsey M. North and Alice H. North
The North Group Inc.
Halsey and Alice North jointly head The North Group Inc. which, since 1987, has been assisting nonprofit theaters, performing arts centers, arts councils, and museums across the country with fundraising feasibility studies, capital and endowment campaigns, annual operating campaigns, strategic planning, board development and retreats, cultural planning, business plans, and workshops on fundraising, board development, and planning. They have a unique national perspective that enables them to share "best practices" from around the country with clients, which saves them time and money. The North Group Inc. specializes in an integrated approach to planning, board development, and fundraising designed to strengthen an organization's fundraising capacity and effectiveness. Both have been active members of the League of Historic American Theatres Board of Directors (both are Board Emeritus board members since 2016) and the Association of Performing Arts Professionals (Halsey active since 1975).
A short list of clients includes -- Arkansas: Walton Arts Center in Fayetteville; Connecticut: Garde Arts Center in New London; Florida: Tampa Theatre in Tampa, Broward Center in Fort Lauderdale, and Ruth Eckerd Hall/Capitol Theatre in Clearwater; Hawaii: Maui Arts & Cultural Center and Hui No'eau Visual Arts Center in Maui; Idaho: Idaho Shakespeare Festival in Boise; Indiana: The Center for the Performing Arts in Carmel; Iowa: FilmScene and The Englert Theatre in Iowa City; Maine: Bowdoin International Music Festival in Brunswick; Massachusetts: Coolidge Corner Theatre Foundation in Brookline and The Colonial Theatre in Pittsfield; Michigan: Michigan Theater Foundation and The State & Michigan Project in Ann Arbor; Missouri: Joplin Center for Arts & Entertainment project in Joplin; New Mexico: Santa Fe Chamber Music Festival; New Hampshire: Capitol Center for the Arts in Concord; New York: Proctors in Schenectady, Universal Preservation Hall in Saratoga Springs; Hudson Opera House in Hudson, The Tarrytown Music Hall in Tarrytown, Clemens Center in Elmira, and Chamber Music America and Elaine Kaufman Cultural Center in NYC; North Carolina: Charlotte Arts & Science Council in Charlotte, Thalian Hall Center for the Performing Arts in Wilmington, and United Arts Council of Raleigh and Wake County in Raleigh; Ohio: Great Lakes Theater/Hanna Theatre project in Cleveland, E.J. Thomas Hall/University of Akron and Akron Civic Theatre in Akron, Oberlin Conservatory of Music in Oberlin, and Montgomery County Arts & Cultural District in Dayton; Pennsylvania: ArtsQuest/SteelStacks Project in Bethlehem and Strand-Capitol Performing Arts Center in York; Tennessee: Germantown Performing Arts Centre in Germantown and Allied Arts of Greater Chattanooga; South Carolina: Newberry Opera House in Newberry; Texas: City of Irving in Irving, Zachary Scott Theatre Center in Austin, and Opera & Performing Arts Society (OPAS) at Texas A&M University in College Station; Vermont: Flynn Center for the Performing Arts in Burlington; Virginia: Wolf Trap Foundation for the Performing Arts in Vienna and The Paramount Theater in Charlottesville; Washington, DC: National Endowment for the Arts, Americans for the Arts, and Association of Performing Arts Professionals; Wisconsin: Racine Art Museum in Racine, Fox Cities Performing Arts Center in Appleton, Overture Center for the Arts in Madison, and the Grand Theater/ArtsBlock project in Wausau.
Halsey is the former Executive Director of the North Carolina Arts Council, the Charlotte Arts & Science Council, and New York City's Cultural Council Foundation. He has also been Vice President of C.W. Shaver & Company and Director of Corporate Contributions of Philip Morris (now Altria Group). Alice is a former Vice President handling corporate accounts for JPMorgan Chase, Citibank, and Bank of America.
Halsey and Alice are both MBAs and, between them, have received the Distinguished Service Award from the North Carolina Association of Arts Councils; the Chairman's Award from Americans for the Arts; the Fan Taylor Award from the Association of Performing Arts Professionals for outstanding service, creative thinking, leadership, and significant impact on the profession of presenting the performing arts; in 2013, the FIRST ''Halsey and Alice North Award For Committed Excellence and Service to the Association of Performing Arts Professionals by an Alumni Board Member;'' and in April 2016, Board Emeritus board membership from the League of Historic American Theatres Board of Directors. Halsey is a former Overseer and member of the Collections Committee, Museum of Fine Arts, Boston. Both Halsey and Alice are members of The Metropolitan Museum of Art Friends of Asian Art; the Museum of Fine Arts Boston's Visiting Committee, Department of Art of Asia, Oceania and Africa; Friends of the Freer and Sackler Galleries